Lina Iris Viktor
Paintings, Installations, Performance.
Lina Iris Viktor is a British-Liberian conceptual artist whose work centers around the age-old practice of gilding with 24-karat gold to call into question the nature of time and being.
The New York Times described her paintings as "queenly self-portraits with a futuristic edge".
Utilizing a multidisciplinary approach, Viktor weaves together many disparate materials, uniting contemporary and ancient modes of making including photography, performance, installation, and abstract painting.
In recent years she has focused on creating increasingly dark canvases embedded with "layers of light" in the form of symbols and intricate patterns that Viktor calls "light-works."
According to the artist: "My personal mandate has always been to reveal that which is hidden. To reflect upon diverse histories — many of which have been grossly misrepresented or erased — and bring them to light. I want to offer a hopeful projection of a future I would like to see."
Viktor has exhibited extensively in the United States and internationally, including at the Harvard Art Museums and the Cooper Gallery at Harvard University and the Spelman College Museum of Fine Art in Atlanta, and has a solo exhibition at the New Orleans Museum of Art. Additionally, the artist has engaged in critical talks and panels at the Smithsonian National Museum of African Art in Washington, D.C., New York University, the Institute of Contemporary Arts in London, and King's College in London.

Viktor, who was born in 1987 in the U.K. to Liberian parents, doesn't discriminate when it comes to time periods and geographies. Past, present, and future are one cyclical continuum that she mines for inspiration, and different cultures and communities converge in a singular, universal experience—"the oneness of things," as she puts it.The result of this expansive perspective is a body of work that blends a dizzying range of references and styles: the figurative with the abstract; Babylonian goddesses and Western madonnas with Japanese geishas; mathematics with mysticism; rich, multivalent black tones with shimmering, luminescent gold and blue. These allusions come together in images that are alluringly difficult to put a finger on. Though they are organized into series whose names speak to cosmic space, deep time, and fraught history—"Constellations," "Materia Prima," "Dark Continents"—they all feel like slightly different angles of one enigmatic point of view.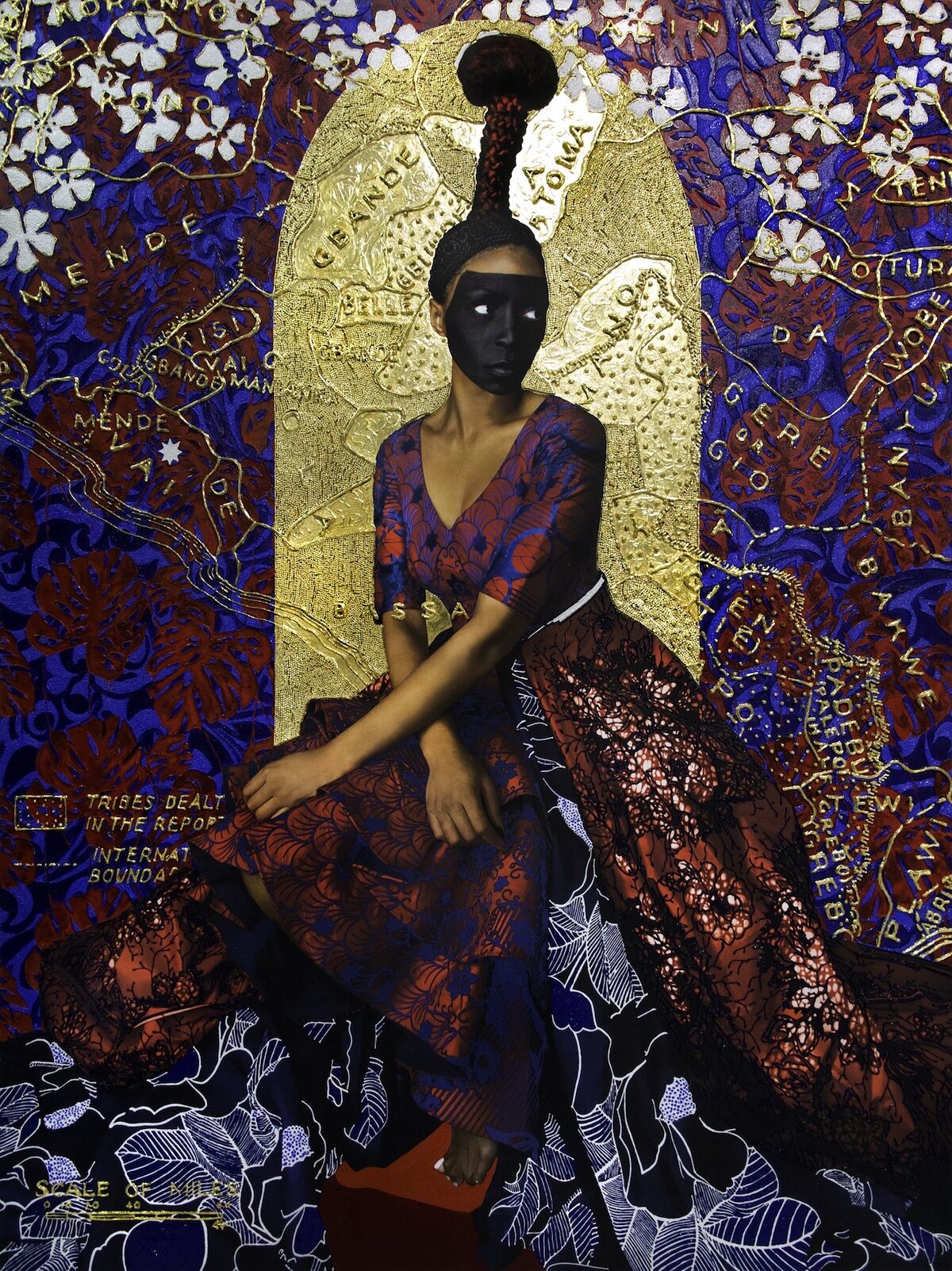 Yet she has discovered in the art world something she values above all else in her career: creative autonomy. This search for freedom is what drew her along an intuitive path toward the visual arts. Viktor grew up acting in plays and musicals from the age of 11, and once imagined she would go into the theater. She attended Catholic boarding school in London and was enamored with "the pomp and regalia and the performance" of the church. She moved to New York to attend Sarah Lawrence College and major in theater, but found America to be "a very different beast" when it comes to racial politics.
She was about 19 when she came to the realization that wrestling with typecasting would not be her battle. She switched to film, and studied directing, cinematography, and film history. The artist found herself in a very macho environment. It wasn't that she didn't like the medium, but she felt the culture of the industry would dictate the parameters of her engagement with it, that she would "become a slave to the medium and the culture and the politics," she says. So Viktor switched gears again and began to experiment with photography and images at the School of Visual Arts, showing her work to friends in the art world.In 2013, her first "Golden Ratio" painting went on view in a group show at a now-defunct Lower East Side gallery, and she received an excited reception. "The last thing I ever thought I would be doing as a creative is being a visual artist," she says, "because I think that was my weakest thing when I was in school.
But that happened very organically, and you have to trust that in life, you know?" She turned her attention to making artwork full-time, eventually moving to a studio, near City Hall in downtown Manhattan, that she dubbed Atelier LVXIX—the name suggesting the insertion of her initials into ancient time.
Gold has been a central preoccupation for Viktor since the beginning of her artmaking. The precious metal forms the intricate, multifarious patterns of her "Constellations" series, as well as some of the curling paisley motifs in her abstract "Golden Ratio" paintings, which look like something between designs of Islamic illuminated texts and the inner workings of a grandfather clock. And gold defines Liberian ethnic groups in the backdrop of her painting Eleventh (2018), part of the series on view at NOMA, as well as the painting's glowing, stele-like tablet that forms a throne behind the queenly figure who appears in front of it. In her latest "Dark Continent" painting,Know we will reborn amidst all the stars. Ex nihilo. (2018),Viktor appears painted in black against a dense black- and grey-scale landscape, imparting golden rays from her hands that form the gilded surface of a moon.
In her studio, she has created a space that offers optimum low-lighting for gold leaf to come to life. The so-called "Blue Room" is a chapel-like quarter with an arched ceiling, majorelle blue walls (the same hue prized by Klein), and soft lighting that emanates from behind crown molding. She sees it as a calm, meditative "holding space" where she goes to decompress and get away from the white space of her production room, and where her artworks can rest between travels to galleries, museums, or collections.
Viktor is interested in space—the way it affects our moods, shapes our experiences, and evokes associations. She wants space to fit around her artworks, rather than her artworks conforming to the clinical white walls of galleries and museums.
Like the artist Yves Klein—a key influence—Viktor wants to return the material to the divine.
.
Even while Viktor rejects the idea that her work is about herself—the images she appears in are "not self-reflexive but externally reflexive," she explains—they are, in some way, about the autonomy that she has sought in her life and practice. However, the artist is wary of being bracketed among women or black artists. She, too, wants to counter the negative associations of blackness—"the idea of sin, of corruption, of ugliness." But she considers her peers to be all other artists, she says, not simply "other women, and not other black women." She has quietly resisted being couched in that way. "The work is the work."
That work is continually, subtly evolving and Viktor plans to move more toward a language of pure abstraction. Pattern has always been a strong component in her work, as a means of communicating a macrocosmic perspective of the world—the sacred whole. "You look at African textiles and you see the repetitive patterns of the universe," she says. "Even our DNA is a pattern-based, repetitive, cyclical thing."
She wants to counter the negative associations of blackness—"the idea of sin, of corruption, of ugliness."
This holds true to her sense of time being cyclical, "as most cultures have seen it besides Western culture," she says. It's a circularity that is perhaps more pronounced now than ever, with current events in the world suggesting echoes of 20th-century history and events much further back in our collective past. "We all know that history repeats itself," Viktor says. "We look at the political climate we're in now and you think that these things will never happen again, and they always do. To rehash historical events in the young history of America is not even that far-reaching—it's important and very present."For Viktor, though, patterns and symbols may be just as capable of summoning the history of the universe as celestial figures and complex narratives—perhaps more so. They speak to something deep in our biology, helping to unleash powerful associations. And they encourage a certain freedom of mind—the autonomy to form one's own visual language through which to see the world.